Winners & Prizes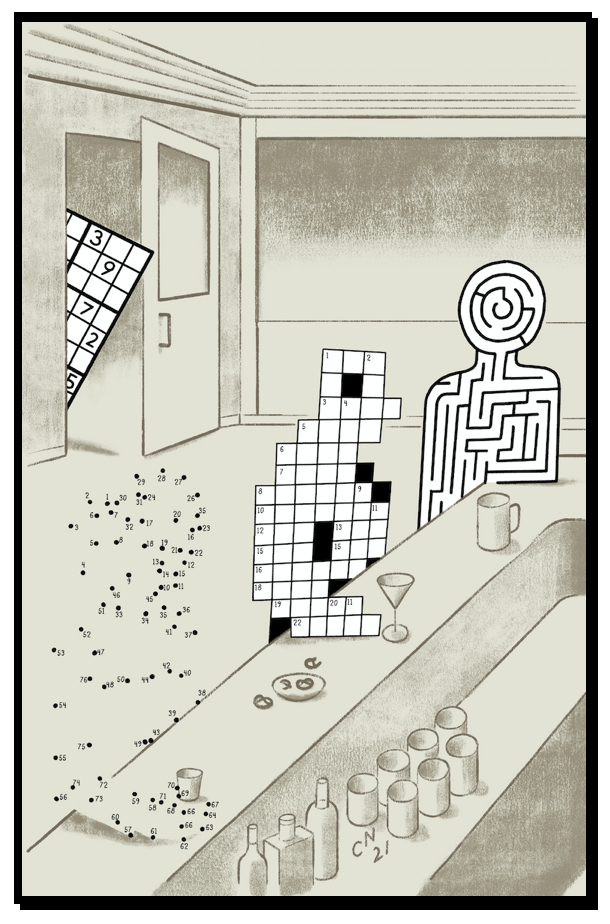 "I swear to God, if Sudoku shows up…"
– Winning Caption by Matt Savoca of the Dr. Mayhem team
2022 WINNERS & TIMES
Easier – Team: Cross Contamination (1:01:18)
Easier – Individual: Cheryl Kochavi (22:56)
Trickier – Team: Tax Team (45:38)
Trickier – Individual: Judy Cole (25:10)
Toughest – Team: Team Smaiblers (21:28)
Toughest – Individual: Matt McCurry (19:23)
PERFECT PUZZLES
| | | |
| --- | --- | --- |
| Toughest – Individual: | | |
| Cross, Brian | Krug, Hannah | Schwartz, Dan |
| desJardins, Marie | Lehman, Jacob | Terry, Denise |
| Jacobson-Bell, Ben | McCurry, Matt | Vanarsdall, Rachel |
| Kalustian, Richard | Mimno, David | White, Robert |
| Koshykar, Roman | Reich, Arnold | Whitney, David |
| | | |
| Toughest – Team: | | |
| Brach Steady | Dr. Mayhem | Team Lansing |
| CrookWords | Let's Go Hoveys | Team Smaiblers |
| Crossing Andromeda | Past, Past Champions | Write up our sleeve |
| Crossie Crew | Spooty Tubers | |
| | | |
| Trickier – Individual: | | |
| Adkins, Robert | Curtin, Edward | Misener, Mark |
| Boscia, Ted | Davis, Julie | Ryan, Kevin |
| Checksfield, Deb | Gibson-Kennedy, Ellen | Visinsky, William |
| Cole, Judy | Leib, Howard | Witkes, Dena |
| Cunningham, Jennifer | Mezzanotte, Diane | Wolfner, Mariana |
| | | |
| | | |
| Trickier – Team: | | |
| Coloradans | Four Across | Tax Team |
| | | |
| Easier – Individual: | | |
| Kochavi, Cheryl | Marra, Jennifer | Silk, Stephanie |
| Lockwood, Steven | Powell, Brenna | |
| | | |
| Easier – Team: | | |
| Cross Contamination | | |
2022 PUZZLES & ANSWERS
PRIZES
All winners will receive the following:
Priceless bragging rights.
A copy of Merl Reagle's Sunday Crosswords, Volume 11.
Personalized Winner's Certificates, suitable for framing.
The unique, highly coveted, and tasteful Finger Lakes Crossword Champ Bracelet … not to be confused with the ostentatious World Series of Poker Champ bracelet (pictured here).
Winners' names will be inscribed on a brass winners' plaque permanently on display in the Tompkins Learning Partners office.
All players who complete three perfect puzzles within the competition time period will receive a Perfect Puzzle Certificate, suitable for framing.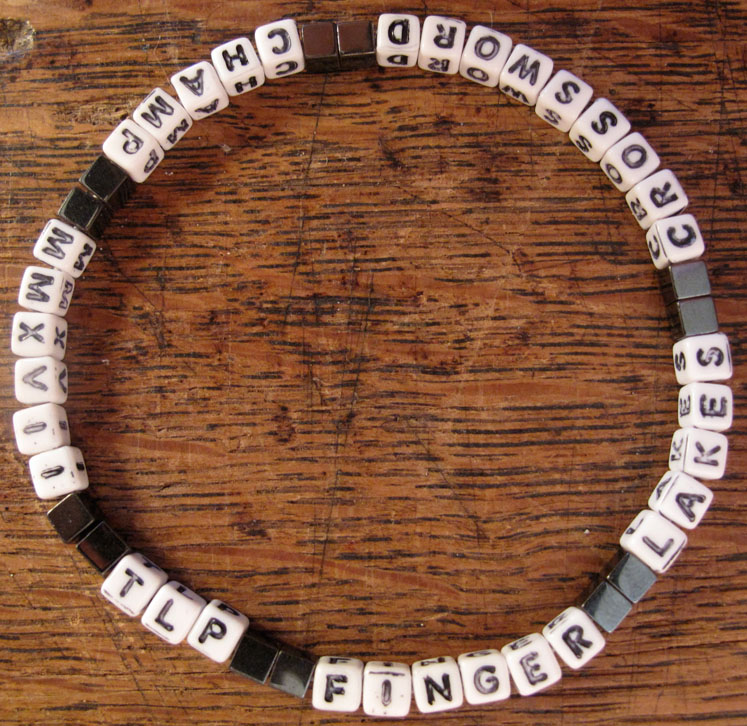 TASTEFUL PRIZE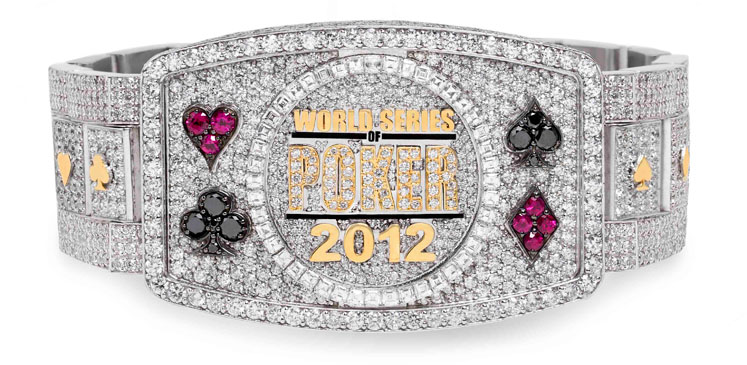 NOT THE PRIZE

Past Winners
2021

2020

2019

2018

TEAMS
Toughest: Team Smaiblers
Trickier: Tax Team
Easier: Two Amigos

INDIVIDUALS
Toughest: Robert White
Trickier: Ted Boscia
Easier: Janet Klein

TEAMS
Toughest: Team Smaiblers
Trickier: Plymouth "The Rock" Johnson
Easier: Team Backii

INDIVIDUALS
Toughest: Jacob Lehman
Trickier: Leigh Keeley
Easier: Jordon Campo

TEAMS
Toughest: Biblioteca Gonna Wreck Ya
Trickier: Greenhill
Easier: Ten CCs of TC

INDIVIDUALS
Toughest: Jesse Lansner
Trickier: Ted Boscia
Easier: Wendy Cameron

TEAMS
Toughest: The Best of the Wordz
Trickier: Candace75
Easier: Two Schlepps

INDIVIDUALS
Toughest: Jesse Lansner
Trickier: Ted Boscia
Easier: Michaela Schied
2017

2016

2015

2014

TEAMS
Toughest: Defending Champs
Trickier: Cinnamon Challenge
Easier: Annabel Thompson Fan Club

INDIVIDUALS
Toughest: Jacob Lehman
Trickier: James Perry
Easier: Emily Kadish

TEAMS
Toughest: Defending Champs
Trickier: The Sweet Potatoes
Easier: Chemung Canal Crossword Crew

INDIVIDUALS
Toughest: Jacob Lehman
Trickier: Diane Colman
Easier: Bhuvanesh Sundar

TEAMS
Toughest: Hot Cross Brains
Trickier: Mart-Feld
Easier: Trojan Horse

INDIVIDUALS
Toughest: Jennifer Turney
Trickier: Joel Johnson
Easier: Sam Peters

TEAMS
Toughest: Uphoff's
Trickier: Frank/McCollister
Easier: Les Quiserables

INDIVIDUALS
Toughest: Robert White
Trickier: Leslie Kinsland
Easier: Barbara Logan
2013
TEAMS
Advanced: CHUMs
Serious: DeWitt Mall Rats
Casual: Warren Wordsmiths

INDIVIDUALS
Advanced: Henry Peterson
Serious: Michael Matsuda
Casual: Nicole Arocho